Though most Android smartphones are built with a minimum memory of 128 GB today, the available storage still runs out after 1 year or sooner, especially for people who are crazy for photos and videos, or games. That's why micro SD card is still not out of date if we don't say it's very popular. However, "SD card not detected in mobile phone" problem is common due to fake product, improper use or other accidents of SD card. One of the worst results is that you'll need an SD card data recovery solution once you cannot access the files on the memory card. If the thing is not that bad and your Android phone is just not reading SD card, please try the following solutions to fix the problem.
Trouble Location for Micro SD Card Not Detected on Android
The foremost thing you should do is to locate the problem. Is it a problem with the micro SD card or the Android phone, or something else? Trouble-location will save you much time and effort.
SD card
It is most likely that the problem is caused by SD card. Here are three tips that can help you to identify.
Insert the SD card into another mobile device, which has been proved to be able to read other SD cards. See whether the memory card can be detected.
Install and run SD Insight on your Android phone and check whether the SD card is genuine.
Check whether your computer can read the SD card with a card reader.
Android phone
It is also possible that the problem lies in your Android phone. Fill your phone with another SD card, which can be detected on another device, and see the result. If the new SD card cannot be detected on your mobile phone, then you may have to repair your phone in software or hardware level.
Other reasons
Maybe your SD card and Android phone are working fine separately, but just won't work when combined. It is rare but still possible. Some SD cards require stable power supply, but some bought battery may be not qualified. In this case, you can try an original battery or just move to a new SD card or mobile phone.
7 Tips to Fix SD Card Not Detected on Android Mobile Phone
1. Try several simple tricks
Reboot your Android phone.
Remove your battery and SD card, and then return them back.
If they don't work, then try solutions below.
2. Clean your SD card lightly
Poor contact can cause SD card not detected or recognized problem. In order to make it work again, you can remove the SD card, and then gently rub the copper piece with a rubber eraser. If necessary, also clean the SD card slot on your handset. This usually works if your SD card gets dirty.
3. Unmount and remount SD card
On your Android phone, go to Settings> Storage, find SD card section. If it shows "Mount SD card" or "Unmount SD card" option, perform these operations to fix the problem. This solution has been proved to be able to solve some SD card not recognized problems. Make sure the phone is NOT connected to computer during this the process.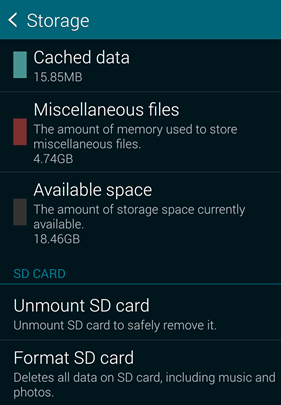 4. Use your computer to diagnose
Windows can repair some errors on disk drives, so you can mount SD card to computer to check errors. However, this solution won't work if your computer cannot detect the SD card.
Step 1. Insert your SD card into a card reader, and then connect to a computer.
Step 2. Open My Computer, and find the disk drive of SD card.
Step 3. Right-click the disk and choose Property.
Step 4. Click Tools tab.
Step 5. On Error checking section, choose Check> Repair drive.
Step 6. When the drive is repaired, eject SD card and insert it back to phone.

5. Format SD card
This solution is also only applicable when your computer can recognize the SD card.
Step 1. Connect SD card to computer via a card reader.
Step 2. Copy the entire SD card to somewhere on your PC for backup.
Step 3. Right-click your SD card drive, and then choose Format…
Step 4. On the Format option window, choose an option from File system.
Note: As suggested by Rukbat on the comment, choose FAT32 if the SD card is 32GB or smaller, or exFAT if the card is larger than 32 GB.
Step 5. Click Start to format SD card.
Step 6. Insert the SD card in your phone.

6. Factory reset Android phone
Sometimes SD card is not detected due to software problems on Android phone. Factory reset can solve some kinds of software errors on Android device.
Go to Settings > Backup and reset, and then choose Factory data reset. Please make sure you know the passwords of Google/Samsung accounts on your phone in case of Factory Reset Protection Lock, and make backups for your phone memory first.
Note: If you lose data due to factory reset, please try recovering data from Android after factory reset.
7. Repair hardware problem
If all of the above methods fail to fix micro SD card not detected problem for you, it is more likely a hardware problem, and either the SD card or the mobile phone is damaged. Now you should go to a local repair store to fix the hardware problem or buy a new memory card or new device.
Bottom Line
We hope one of the tips above has fixed SD card not detected by Android phone problem for you. A lot of people are also reading how to fix Android USB device not recognized but charging issue. Follow us to learn many more tips and tricks about mobile phone.