Whenever a smartphone manufacturer or app developer announces the support of night mode or dark mode on their products, people get excited and applause for the "improvement". Why exactly are people so into night mode on smartphone? It seems more likely to be a trend instead of merely reasonable choice. In this article, you will learn how to turn on night mode on Android smartphones, like Pixel, Samsung, OnePlus, etc. There are also lots of Android apps that support night mode on its own UI.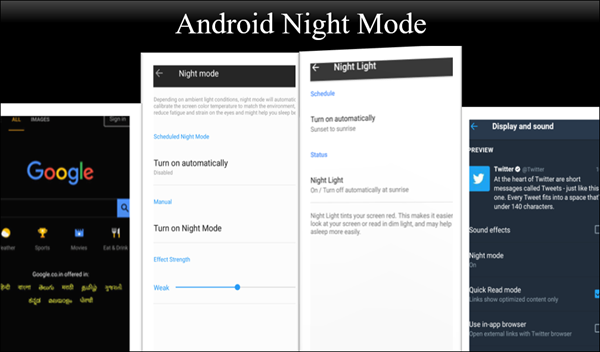 Why People Like Android Night Mode So Much
Night mode puts less strain on your eyes
Night mode makes it easier to read in dim light
Night mode helps you fall asleep more easily
It is a cool trend to have night mode
Tell us why you like night mode so much and see if other people share the same thought.

How to Turn on Night Mode on Pixel Phone
Though famous for innovation and openness, Android has been fallen behind when it comes to Night mode. After Apple's Night Shift on iOS 9.3 and macOS Sierra 10.12.4, Microsoft's Night Light on Creator's Update of Windows 10, and various third-party PC or mobile apps that with similar feature, Google finally added support of Night Light, but exclusively for Pixel and Pixel XL on Android 7.1 and higher. Here is how to turn on night mode on Pixel XL phone.
Step 1. Go to Settings > Display > Night Light.
Step 2. Tap Schedule and choose when you want Night mode to turn on. You can set a custom time or leave it default as the duration from sunset to sunrise.
Step 3. Night Light mode will automatically turn on or off at preset time frame.
Note: You can tweak the intensity when Night Light is on your Pixel phone.

How to Turn on Night Mode Android Phone Other than Pixel
From some aspect, Night mode is technically reducing blue light, so it is named Blue light filter on some Android phones. Yes, you can also turn on Night mode on Android mobile phones other than Pixel.
Option 1. Build in Night Mode on Android Phone
Even though Google does not add night mode to stock Android OS, many manufacturers have taken a step forward. Samsung, Huawei, OnePlus, and other manufacturers, which adopt altered or after-market OS, support built-in night mode feature on their latest devices. For example:
On Samsung S8 and newer Galaxy devices, Night mode can be turned on from Settings > Display > Blue light filter.
On OnePlus devices running on Oxygen OS version 4.0 and newer, you can go to Settings > Display > Night mode.
It is actually harder to know if there is a night mode option on your Android phone than to know how to set it up. If you're not sure, just drop a line or two on the comment area. We will respond as soon as possible.
Even if your smartphone doesn't have a built-in night mode, you can also have a taste of cool dark theme with third-party apps.
Option 2. Third-Party Night Mode App
For users with comparatively old smartphone, third-party app is a great option for dark mode. Twilight is one of the earliest software that support light filtering function. From this aspect, Twilight should be able to provide stable and advanced night mode experience. However, that is not always true. A lot of users have reported "screen overlay detected" problem that appears after installing Twilight or similar apps. Moreover, it is completely possible that new developers may provide better function and experience regarding to blue light filtering.
Custom theme is also an option for night mode. If your smartphone has a theme market which allows developers upload themes, then it is highly possible that you will find a dark mode theme. Nevertheless, night mode won't perfectly work on all UI with custom theme.

Android Night Mode Supported Apps
While night mode is getting more and more popular, some giant app providers add this feature to their own products, including Chrome, YouTube, Twitter, Reddit, etc. This is also a choice especially when you mainly use some certain apps at night.
Here is a short list of night mode supported apps:
Chrome: Menu > Settings > Accessibility, turn on Simplified view. Open any page, tap Show Simplified View at the bottom. Settings > Appearance, tweak Dark mode intensity.
Twitter: Tap profile photo on top-left corner, scroll down to find and tap the half-moon icon.
YouTube: Night mode is still "coming soon" on YouTube for Android. However, you can go extra mile to enable Dark mode on YouTube for Android.
Reddit
Samsung Internet Browser
Telegram: the messenger app with read receipt
Camera Roll – Gallery
Wikepedia
You can find more apps that support Dark mode or Night mode by searching on Google, or you may already know it once night mode is added if you are really a fan of an app. What's the mobile phone or Android app that you want to have night mode enabled?