I won a Samsung Galaxy S6 Edge, signed into it with my Google account, played around with it, wiped it, and sold it. Now the person is stuck at setup wizard because it's saying he must login with an account previously synced to the phone. I have never expected this to happen. Is there anything I can do from my side to remove this lock?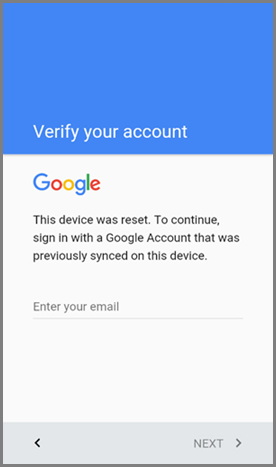 What is Factory Reset Protection?
Factory Reset Protection (FRP), aka Google account verification, is a security feature on Android devices with Lollipop 5.1 and higher. When you perform a Factory Data Reset to an Android device, all settings are returned to its default status. All data are erased, including files and downloaded apps.
If you have a Google account set up on the device, then FRP is active. This means that after the reset, you'll be required to log in to the Google account using the username and password. If you have multiple Google accounts set up on the device, you can log in with any of the accounts.
If an unauthorized person tries to reset the device by another method, the device would still require log-in using the Google username and password. This means that if your device is lost or stolen, another person would not be able to reset it and use it.
What If You Forget Google Account Password?
If you know your Google username but can't remember the password, you can reset your password on the device, or at www.google.com. It can take up to 24 hours for a new password to sync with all registered devices. After 24 hours, you can try logging in to your phone with the new password.
How to Bypass Factory Reset Protection on Android like Samsung
If you can't remember any of your Google Account information, you can send your device, along with proof of purchase, to the manufacturer service store, like an authorized Samsung Service Center. They should have special tools to reset the phone to factory defaults and bypass Google account verification.
Alternatively, you could try a trick to bypass Android factory reset protection, but it may not work for all Android mobile devices.
Step 1. On the FRP page that requires you to enter the Google account previously synced to the phone, long press the @ key on the keyboard until a window pops up.
Step 2. Tap "Google Keyboard Settings" on the pop-up window.
Step 3. Click on the three-dot menu and choose "Help & Feedback". Select a random item and long press to copy some of the text. You will see a web search icon on the upper right. Click the icon. When the search field appears, type "Settings".
Step 4. You'll enter the "Settings" app. Go to "Developer Options" (if the option is not in the list, tap on "Build Number" (under "About" category) 7 times to enable "Developer Options") and allow "OEM Unlocking".
Step 5. Long press the "Power" button and reboot the phone. On the setup wizard, you should now see "Add your account" page instead of "Verify your account". Add a Google account and you can enter the device now.
After factory reset protection bypass and new phone setup, you may try restoring the data lost due to factory reset.
How to Avoid Factory Reset Protection Lock?
Sometimes you should especially be careful about factory reset protection to avoid being locked out of your device.
For example, when you want to reset your phone but don't remember your Google username and/or password. Or when you are ready to sell your handset to someone else after factory reset.
In these cases, you should remove all Google accounts on your phone in advance. Go to Settings> Account, there should have an option to remove/delete Google accounts from your handset.