Does anyone be able to figure out how to get back deleted snapchat photos? My Snapchat photos were lost when I tried to free up space on my phone and wiped "Miscellaneous files". Please HELP.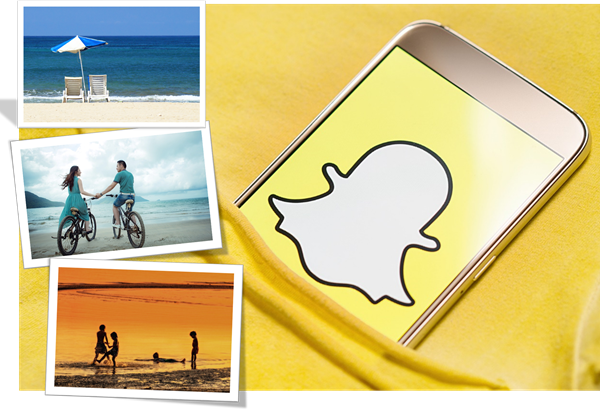 Snapchat is getting more and more popular with various face filters as well as other interesting features. However, while you are enjoying the fun of selfie and building precious memory with pictures and videos, your Snapchat data may be in danger. On the one hand, Snapchat automatically deletes Snaps, Chats and Stories once they have been viewed or expired; on the other hand, you may lose saved Snapchat photos and videos due to mistaken deletion or other accidents. In this article, you'll learn how to retrieve old or deleted Snapchat photos and videos from Android handset.
Snapchat Photo Recovery Tool
iReparo Android Data Recovery can recover photos and videos deleted within apps, like Snapchat and WhatsApp, on Android device, including Samsung, HTC, LG, Motorola, Nexus, etc. It is the best tool for Snapchat and WhatsApp recovery. With it, you could get back deleted Snapchat photo, video and album files without backup.
Apart from the best Snapchat photo recovery tool, it is also very important that you should not add new data to your phone to prevent data overwriting.
How to Recover Snapchat Photos and Videos on Android
Download and install the Snapchat photo recovery tool for free on your computer, and then restore Snapchat data from Android as below.
Step 1. Run the Snapchat recovery app, and choose Multimedia for Snapchat photo/video recovery.
Step 2. Select possible formats of the old or deleted Snapchat photos, and click Next.
Step 3. Connect your Android device to PC via a USB cable, and follow on-screen instruction.
Step 4. Click Scan to find lost Snapchat photos and stories in your mobile phone.
Step 5. Preview and Recover Snapchat photos from Android.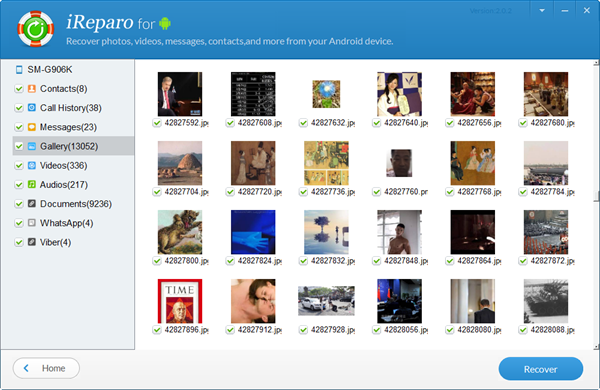 Once Android Snapchat recovery is finished, you will be able to view the recovered Snapchat photos and videos. In order to use Snapchat safely, please also check the following two tips about Snapchat data.
Tip 1. Select Where to Save Snap and Story in Snapchat
Snaps and stories are the photos and videos you have taken with your phone. Snapchat allows users to save them to its server (by default), device storage or both.
Step 1. Open Snapchat, and swipe down anywhere on the screen.
Step 2. On the new screen, tap the gear icon on the upper-right corner.
Step 3. Swipe down, and tap Memories.
Step 4. Choose Save To…
Step 5. Select to save Snap and Story to Memories (Snapchat server), Memories & Camera Roll (both server and device gallery) or Camera Roll Only (device gallery).
Once done, when you tap the Save icon next time, snaps and stories will be saved to the location you set.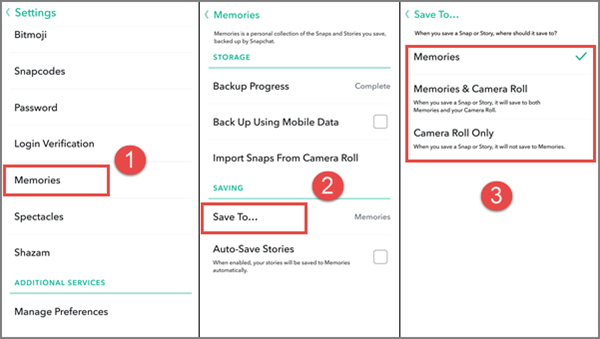 Tip 2. How to Save Received Snapchat Photos
It is a great feature for privacy and less storage usage that Snapchat deletes received photos and videos once they have been viewed or expired. However, sometimes we may want to keep some wonderful Snaps sent from friends forever. Here is a solution to prevent received Snapchat photos from being deleted.
Step 1. When you receive a Snap that you want to save, go back to Home screen, but don't close Snapchat app.
Step 2. Open File manager app on your phone, and go to Android > data > com.snapchat.android > cache > received_image_snaps
Step 3. Copy the entire received_image_snaps folder to SD card, PC or external storage.
Step 4. Rename the xxx.nomedia files in the folder as xxx.jpg, and then you should be able to view the files as photos.
The exact location of the com.snapchat.android folder might slightly vary on different device and file manager apps. Anyway, you'll be able to backup received Snapchat photos and recover old Snapchats Android whenever you want.