WhatsApp is popular almost all over the world, but many people who are not fond of it or unable to use it are still searching for replacements for WhatsApp. In this article, we are going to introduce several alternative social messaging apps of WhatsApp for Android device. Since people have different tastes over app design and diversified needs on specific conditions, we will only list functions (basic needs), sign in method (some people need apps like WhatsApp without phone number), privacy, and user number (user number gives messaging apps meaning).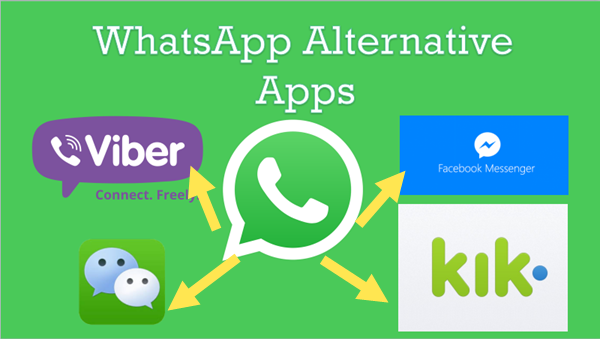 1. Viber (More Functions, Higher privacy, All Over the World)
Viber is the most similar app of WhatsApp, which makes it reasonably popular but unlikely as hot as the latter.
Function:
Make free phone and video calls as well as sending text messages.
Share photos, videos, voice messages, locations, stickers and emoticons.
Follow Public Chats – get on the inside with your favorite celebs, brands and personalities; watch their conversations unfold in real-time, 'like' comments and share multi-media content.
Backup and restore Viber messages with Google Drive or Android data recovery tool.
Sign up/in:
Just like WhatsApp, users sign up/in Viber with phone number and verification SMS.
Privacy:
Viber automatically detects which of your contacts also have Viber. However, comparing with WhatsApp, which shares your accounts info with Facebook by default, Viber still provides higher privacy.
User:
800 million users on all platforms all over the world.
2. Facebook Messenger (Basic Function, Lower Privacy, All Over the World)
Most people use Facebook Messenger because of Facebook and just need a convenient mobile app for chatting. Nevertheless, it is still an idea alternative to WhatsApp as a messaging app.
Function:
Message friends, groups of friends on Facebook or anyone in your mobile contacts.
Map your location, find your friends and make plans on the go.
Include photos so friends can see what you're doing.
Facebook chat history is automatically synced whenever you sign in on mobile device or web, but you may need to learn how to recover deleted Facebook messages on Android.
Sign up/in:
Sign up/in with Facebook account (email/phone number) and password.
Privacy:
Facebook is so popular that it is nearly impossible to keep enough privacy from other people.
User:
With a widely used platform as Facebook, you don't need to worry about there is not enough friends to chat with this alternative app of WhatsApp.
3. WeChat (Multiple Functions, Higher Privacy, Mostly in China)
WeChat is a complete mobile communication and private social networking app. It is free, cross-platform, and full-featured. WeChat is the best alternative of WhatsApp in China, and it is also very popular in worldwide now.
Function:
Send video, image, text, voice messages and documents one in one or in groups.
High-quality free calls to anywhere in the world.
Subscribe to Official Accounts of interesting topics or celebrities.
Share your best moments on your personal photo stream.
Use "Friend Radar", "People Nearby" and "Shake" to meet new friends.
Instead of having to tell others where you are, just use real-time location sharing.
Scan QR code to add new friends or pay bill. Especially convenient if you live in China.
Sign up/in:
Sign up/in WeChat with WeChat via SMS, or phone number/ID/email and password. It is an app like WhatsApp without phone number.
Privacy:
WeChat gives users the high level of control over privacy. You can choose whether allow people to find you through WeChat ID and phone number or not, and control who can see your Moment photo stream and more.
User:
800 million users, mostly in China.
4. Kik Messenger (Featured Functions, without Phone Number, Less Popular)
Kik lets you connect with friends, groups, bots and the world around you through chat. If you are a developer, there more interesting features to find.
Function:
Chat with friends one-on-one and in groups.
Play with bots for fun.
Search by #topic to find a group and chat about something that interest you.
Share pictures, videos, gifs, games, and more.
Sign up/in:
Sign up/in Kik Messenger with email/username and password.
Privacy:
Middle-level privacy.
User:
Kik Messenger is not as popular as the apps above, but it would be a good WhatsApp alternative app if your friends use it.