Facebook Messenger is a frequently used social chatting tool, and also one of the apps many users most want to recover data from. Android Facebook Messenger recovery relies on the special features of Facebook and Facebook Messenger recovery tools. On this tutorial, you'll find solutions to recover hidden or deleted Facebook messages from Android phone.
Part 1. Recover Deleted Messages on Facebook Messenger from Archived Conversation
Android users can easily archive conversations on Facebook Messenger, after which the conversation will disappear from the list. However, once Facebook conversations are archived on Messenger app, people can only recover Facebook archived messages from Android on a browser.
Step 1. Log in Facebook account on a computer webpage.
Step 2. On Home page, click Messages on the left-column.
Step 3. On the new page, click More on the top menu, and choose Archived.
Step 4. Move mouse over the archived contact, and click the arrow mark on the lower right corner to Unarchive.

Part 2. Recover deleted Facebook Messages on Android from Downloaded Copy
Facebook also allows users to back up chat messages, personal info and other data by downloading a copy to computer. If you have saved a copy of Facebook data, you can now find and view Facebook chat history, but impossible to recover Facebook messages back to Android phone directly. This is still useful when you just want to check an important chat message which has been deleted after the backup.
How to download Facebooked data
Step 1. Log in Facebook account on computer.
Step 2. On Home page, click the inverted triangle, and choose Settings from the menu.
Step 3. Within General section, click Download a copy on the bottom.
Step 4. On the new page, choose Start Archive. You'll need to enter password to confirm and wait for an email.
Step 5. Enter the download page via the email you received, and then start to download Facebook data to PC.
Step 6. Save the downloaded Facebook data file properly, and view it when you need.
Part 3. Recover Deleted Facebook Messages on Android without PC
If you want to recover deleted Facebook Messenger chat history from Android without backup, Facebook Messenger recovery tool is the last resort. However, root is needed in order to recover deleted Facebook messages with recovery tool. If your mobile phone is qualified, please follow steps below.
Step 1. Install GT Messenger Recovery from Google Play Store.
Step 2. Run the Facebook Messenger recovery program.
Step 3. Choose Scan Deleted Chats.
Step 4. After scanning, select and recover deleted Facebook messages from Android phone.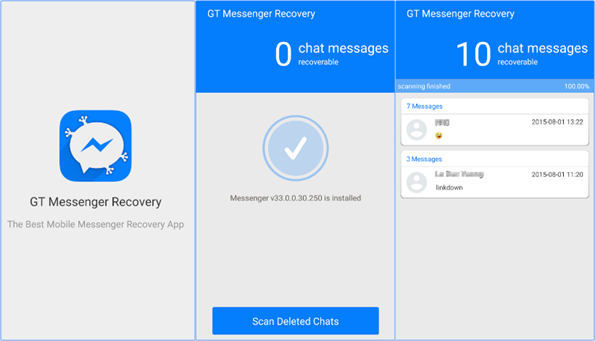 Except for Facebook messages, it is also possible to recover text messages, contacts, call logs, photos, videos, audio, document, WhatsApp and Viber from Android phone and tablet with iReparo Android Data Recovery.