Some Android users like rooting, but some also want to remove root access from their Android devices. It seems that unrooting should be much easier than rooting. However, many people are unable to figure out an easy and safe solution to unroot their Android phone or tablet. In this tutorial, you will learn several solutions to remove root from Android mobile device with or without PC. Please check every section carefully and choose the best method for your rooted handset.
Why People Want to Unroot Their Android Phone
To get OTA update
To use some certain apps, like banking and payment apps
To make phone safer and more stable
Note:
Unrooting Android phone won't reset Samsung KNOX counter.
You can check whether your device is currently rooted or not with Root Checker.
It is more or less risky to root or unroot Android device if you are not familiar with the operation, but you can always use iReparo Android Recovery to retrieve your lost data.
Solution 1. How to Unroot Android Using SuperSU (without Computer)
SuperSU allows for advanced management of Superuser access rights for all the apps on your device that need root. It is designed with a function to unroot Android device. In most cases, this app should be automatically installed when your phone was rooted, but you can also install SuperSU on Google play store manually.
Step 1. Open SuperSU on your phone, and then tap SETTINGS.
Step 2. Scroll down to find "Full unroot" on CLEANUP section.
Step 3. Tap "Full unroot" and read the pop-up information, then choose "Continue".
Step 4. Wait for unrooting by the app, and then reboot your device.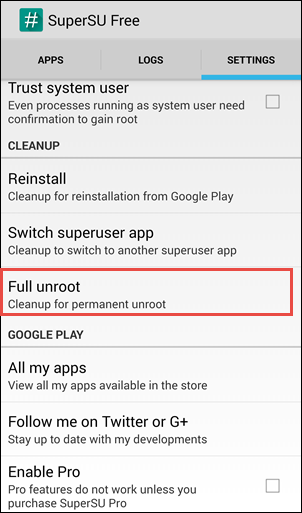 This is the easiest method to unroot Android phone. However, as the pop-up information says, some devices will be rerooted after rebooting.
Solution 2. How to Unroot Android Phone Using Rooting Apps (without PC)
Most rooting apps, like Kingroot or Kingoroot are also able to remove rooting. This solution also works even if your handset was not rooted with these rooting apps. Nevertheless, some users criticize that some of these rooting apps are hard to uninstall or linked with bloatware. Anyway, here we take Kingroot as an example.
Step 1. Install Kingroot apk on your phone. (Know how to install APK on Android.)
Step 2. Run Kingroot on your phone. Grant root permission if asked.
Step 3. Go to Menu icon> Settings, and then choose "Uninstall KingRoot".
Step 4. Tap "Continue", then choose "OK".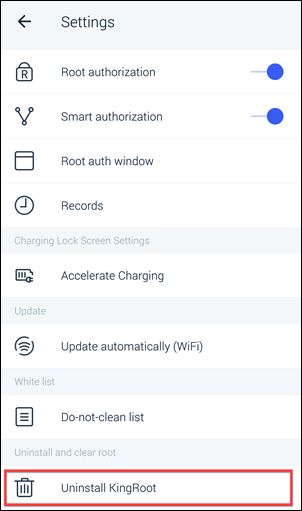 Note: The operation may slightly vary on different version of Kingroot.
Solution 3. How to Remove Root from Android by Installing Stock Firmware
Stock firmware are not included with root. For Samsung devices, users can install stock firmware with Samsung Smart Switch, Kies or Odin. For other Android devices, users might have to find specified methods on search engine or forum, like XDA.
Update Rooted Samsung to Stock Firmware
Even though Samsung device cannot get update via OTA after being modified (including rooting), we can still update rooted Samsung to stock firmware via Smart Switch or Kies on PC and remove root. For a detailed instruction, please visit how to update rooted Samsung phone.
This solution won't work if your rooted Samsung is already on the latest OS, but you can try the method below.
Install Stock Firmware for Samsung with Odin on PC
Odin is a most commonly used Samsung flashing tool, which is leaked from Samsung itself. You can install any version (earlier or latest) of Samsung stock firmware with Odin to remove rooting, but you must find the right firmware package for your device model. What's more, this solution will wipe all your device data. Make a backup before you try this solution.
Please install Odin on your computer and download the ROM package (do a search on Google) for your Samsung device to computer, then follow steps below.
Step 1. Boot Samsung into Download Mode (aka. Odin Mode). Turn off device, then press and hold Home + Power + Volume down buttons at the same time to enter Download Mode.
Step 2. Launch Odin on PC. Make sure Auto Reboot and F. Reset Time are checked.
Step 3. Click PA (or PDA, depends on which version of Odin) from the right column.
Step 4. Locate the firmware package you downloaded to PC, and then click Open to load.
Step 5. Click Start and wait it to complete.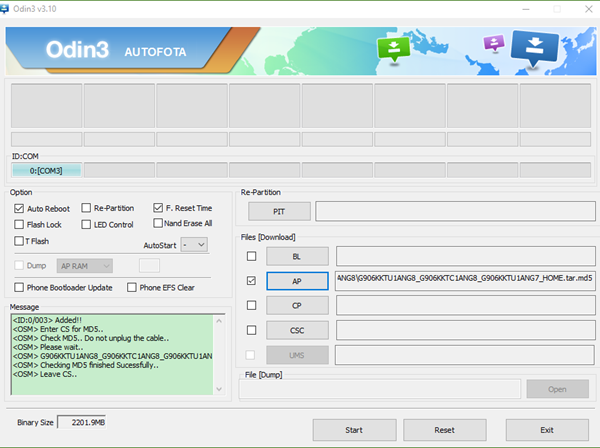 Note:
Odin is only compatible with Windows. You can use Heimdall if you need alternatives for Linux or MAC OS.
If your phone gets stuck in an infinite boot loop after the flash, you will need to perform factory reset to fix it. Learn how to factory reset Android phone in recovery mode. It is suggested to do it before installing firmware.