Google Play has become the choice of the majority of Android device users when it turns to apps and games installing. It is convenient, rich and always in sync. Nevertheless, Google Play is not one of a kind in app markets. We can install Android apps outside of Google Play. Amazon is a strong rival of Google, especially since it put out the Underground Apps, which allows users to get paid apps, games and in-app items for free. Apart from the two main app stores, there are also thousands of websites providing all kinds of APK files (app installer) for downloading. Now let's learn to install apps and games on Android device with these three methods.
Method 1. Install Android Apps and Games from Google Play
Google Play Store is a treasure trove of apps and games. It is well-developed and friendly for users and developers. As a result, all sorts of apps can be found here after they pass the security testing of Google.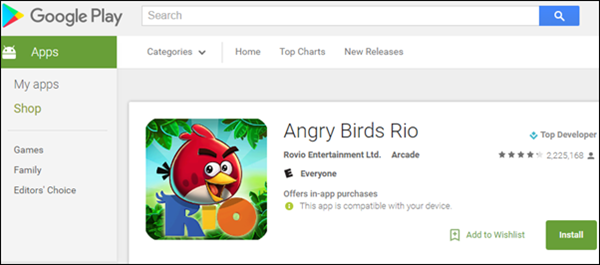 Google Play is very easy to use with a Google account. Users can search for apps on Google Play Store via a browser or within the Google Play app on your device, but eventually you need to install the apps and games through Google Play app on your phone. If you don't have Google Play on your phone, please download and install it first by following Method 3.
How to install an Android app from Google Play
Step1. Visit Google Play via a browser.
Step2. Find the app you need. You can browse apps from the sidebar categories, or search for the app by inputting keywords in the search box.
Step3. Click the name or icon of the app to know details.
Step4. Click Install button if you're sure you need this app. If you have signed in Google Play on your device, the play store would tell you whether the app is compatible with your device or not.
Step5. Click Install again on the pop-up bubble. The bubble should show the access permission(s) that the app will be granted after installing.
Step6. Wait a minute, then it will say that the app will be installed on your device soon.
Step7. Launch Google Play on your device to check. It will complete the installation automatically.
It is similar and even easier to install apps and games from Google Play app on your mobile device. Why not try it yourself?
Method 2. Install Paid Apps and Games from Amazon Underground for Free
Amazon is another source of Android apps and games, though less popular than Google Play Store. You also need an account to install apps and games from Amazon app store. There is no reason to use it instead of Google Play except for the Underground Apps.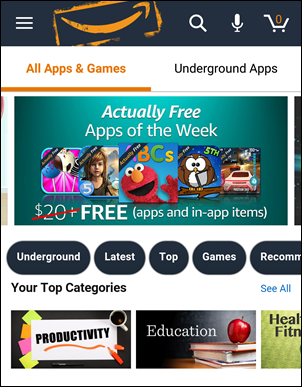 Amazon Underground is the shopping app you can't get on Google Play. It allows users to use paid apps, games and in-app items at no cost. Instead, Amazon pays app developers for every minute a user is on their apps. In this way, Amazon wishes to attract more users to its site and app platform so that they may purchase other paid products. Also, for Underground apps, which can only be installed via the mobile app, Amazon may collect some information from users.
See here how to install Amazon Underground app:
How to install an Android app from Amazon Underground
Step1. Run Amazon Underground app on your Android device.
Step2. Search apps through the search box.
Step3. Tap the entry with "in Underground Apps" mark.
Step4. Choose the app you need from the results.
Step5. Tap Download button.
Step6. Tap the menu.
Step7. Scroll down, and then choose "You Apps".
Step8. Find the app under CLOUD tab.
Step9. Tap Install when download is complete.
Apps from Amazon are also sideloaded to Android (as described in Method 3) since Google Play is the only official app store of original Android OS, but it is more secure than other "Unknown sources".
Method 3. Sideload Android Apps and Games from APK Download Sites
Besides installing Android apps and games from app markets, you can also download APK files and sideload them to Android device. APK file is the installer of Android app. There are tons of APK downloads sites, but you should choose trustworthy sources, like Cnet and APK Mirror, to avoid malware.
How to install Android apps without Google Play
Note: In order to sideload apps, we have to allow "Unknown sources" on our Android devices.
Step1. Go to Settings.
Step2. Scroll down and tap "Security".
Step3. Tap and enable "Unknown sources" option.
Step4. Tap "OK" to confirm your operation.
Step5. Find the APK file on your phone storage via a file manager app. If you download it from PC, please move it to your phone.
Step6. Tap the APK file to install the app. It will display the needed access permissions; you should check them carefully.
The way for enabling Unknown sources may diverse from device to device. If you have any problem, please leave a comment. We'll respond soon as possible.