I recently updated the Android version in my Lenovo mob. But when I try to open any app it shows screenoverlay setting error.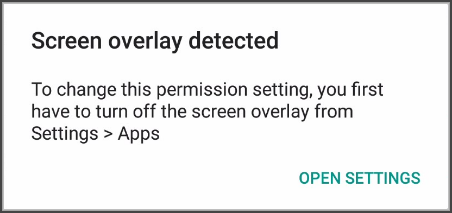 Screen overlay is a common issue that could drive Android users crazy. Actually, it is a part of an app that can display over the top of other apps. Anyway, don't panic when it happens on you. This problem can be easily fixed as long as you find the exact cause and solution. WARNING: Don't try factory reset even if you are extremely frustrated now, which won't work and you might need to recover phone data after factory reset. Just look through this article and your trouble will go away.
Part 1. "Screen Overlay Detected" Overview
1. Symptoms:
"Screen overlay detected" window appears.
Cannot open some apps, like Gallery.
Cannot access media files via social apps when trying to update your status.
Cannot download new apps or play some games.
2. Usually Happens When:
After an Android version update.
After factory reset.
After installing new apps.
Trying to grant or change permission setting of an app.
3. Cause:
"Screen overlay detected" error is often caused due to specific permission request from some types of apps, including security/antivirus, cleaner, battery saver, swipe, launcher, apps with floating window, etc.
Apps that have been reported for screen overlay problem:
Twilight, Drupe, Discord, Swipe, CM Clean Master, DU Speed Booster, Shutapp, ES File Manager. (The list is collected from internet. The apps are actually very useful if without the screen overlay problem.)
Part 2. How to Fix Screen Overlay on Android
The following methods have helped many people fix screen overlay error on different mobile devices. You may test and choose the right solution for your handset.
1. Uninstall the apps that may cause screen overlay
This is the most straightforward way to turn off screen overlay. Just check all the above apps (especially those newly installed on your phone) that have been proven to be the culprit, and then uninstall them to see if the problem is solved.
2. Turn off screen overlay on Settings
When "Screen overlay detected" window pops up, it usually asks you to turn off screen overlay on Settings. Just tap on the "OPEN SETTINGS" link to "Draw over other apps" page, which displays all the apps that are permitted to draw over other apps. You may have to disable the toggle on each app until the problem is fixed.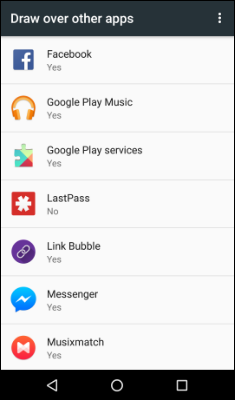 How to access the "Draw over other apps" menu manually
In case you failed to open the pop-up settings, you may try a manual access.
Step 1. On stock Android, go to Settings> Apps.
Step 2. Tap the gear icon on top-right corner.
Step 3. On the new screen, choose Special access, and then you will find "Draw over other apps" option.
Since most manufacturers make changes to Android stock system, the location of Draw over other apps menu often varies. Usually, you can search for the option on Settings (with the magnifying glass icon) if your device is running on Android 5.0 or later.
3. Turn off screen overlay on some Samsung devices
On some Samsung smart devices, like Galaxy S5, there is no "Draw over other apps" menu. If you have too many apps to remove, or uninstalling them doesn't work, you may try two tricks.
Trick 1:
Step 1. Turn on Developer options. (Settings> About device, tap Build number for 7 times to open it)
Step 2. On Developer options, tap "Stimulate secondary displays".
Step 3. Choose None if it is not selected.
Trick 2:
Step 1. Go to Settings> One-handed operation.
Step 2. Tap the toggle to turn it off.
If you encountered more cases about "Screen overlay detected" problem, please leave a comment and discuss with us.