Nandroid (or NANdroid) backup is generally known as a complete phone backup. In fact, however, it is not the most convenient or best way for backing up data and files on Android device, because it requires root and custom recovery, which are complicated and risky for new users. It is more like creating a recovery point for your phone in case that it cannot function normally and needs to be restored. Isn't it awesome? Now let's learn to create a Nandroid backup for your Android phone or tablet and restore Nandroid backup.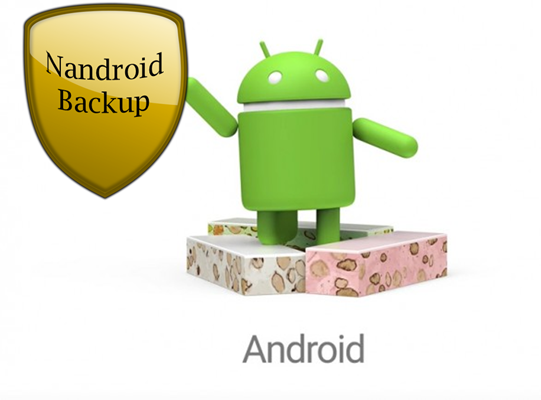 How to Make a Nandroid Backup for Android Device
1. Prerequisites
In order to create a Nandroid backup, you have to root your Android device and install a custom recovery (CWM or TWRP) on it, since the stock recovery doesn't support Nandroid backup and restore.
2. Enter into recovery mode
In regular way, your phone needs to boot into recovery mode to make a Nandroid backup. The operation may be varied on different devices. If you're not sure how to do it, check a tutorial: How to Enter Recovery Mode on Android.
Know more about Android System Modes.
You can also make Nandroid backups without booting into recovery mode by using apps listed in the end of this article.
3. Make a Nandroid backup in recovery mode
For TWRP
Step 1. Tap on "Backup".
Step 2. Choose the partitions you want to back up.
Step 3. Confirm to back up by swiping the slide at the bottom.
Step 4. Wait the Nandroid backup to complete.
Step 5. Choose "Reboot System".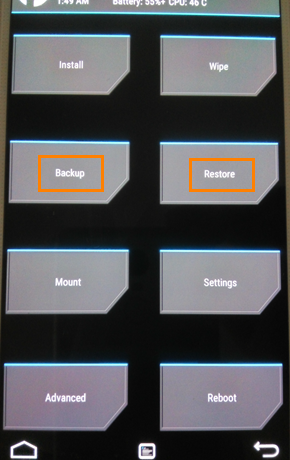 For CWM
Step 1. Tap "backup and restore"
Step 2. Choose "Backup"
Step 3. Wait the Nandroid backup to complete.
Step 4. Tap "Go back".
Step 5. Choose "Reboot system now".
How to Manage Nandroid Backup on Android
1. Rename, delete or restore Nandroid backup in recovery mode
Users can manage the Nandroid backups they made in TWRP, but limited to Rename, Delete and Restore, as you can see on the picture below. To restore Nandroid backup to Android device, just choose "Restore" in TWRP recovery mode. CWM is similar.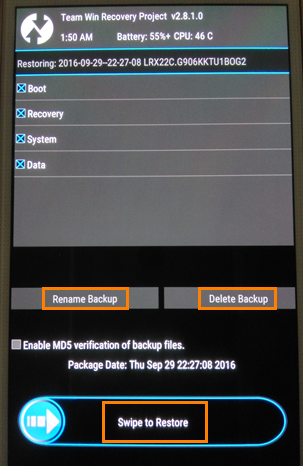 2. Move Nandroid backup to PC
If you choose to back up all partitions on your device, the Nandroid backup usually takes up a great part of space. You can move the Nandroid backup to PC to save phone memory and transfer it back when you need it.

For TWRP
The backups are usually saved in a folder named as TWRP on your phone storage. You just need to move the backup folder to your computer and delete the original one from your phone.
For CWM
The backups are usually under /data/media/clockworkmod/backups. But you may not be able to see the backup files through computer File Explorer. Instead, you need to move the backup folder to another location via a file manager app on your phone, and then the computer File Explorer should be able to find and move it.
3. Manage Nandroid backups with apps
There are some Nandroid manager apps on Google Play, with which you can make a Nandroid backup or restore it without booting into recovery mode (Root and custom recovery are still needed). Try and choose one app from the following. Please check whether they support your device or not first.
Nandroid Manager: restore apps and data from backup individually; flash new recovery.
TWRP Manager: install ROM/TWRP; back up; restore; reboot.
Online Nandroid Backup: create backup, schedule backup, upload backup.
Though you can save your device from serious system problems with Nandroid backups, you'd better learn more other tips to keep your rooted phone safe.