Are you ready to upgrade to the newest Android OS? Don't do it unless you have backed up your phone data. It is necessary for all Android users to make regular backups, which would help a lot in case of accidental data loss, and backups under special scenarios, such as system update, Android bootloader unlocking and rooting, which may wipe all user data. According to different demands, users can backup data and settings to device internal memory, SD card, computer or even cloud. Let's learn 4 ways to back up and restore Android phone and tablet.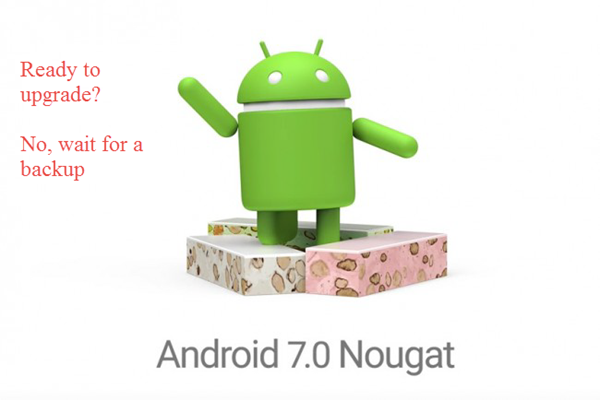 Method 1. Back up and Restore Android data with Google
If you are a big fan of Nexus device, it should be quite familiar for you to set up Google account on Android device and sync data to Google account. In this way, your device settings and some apps' data, like calendar and contacts, will be synced to Google server. However, this way only suits for light data. For big files, such as photos, videos, music, the auto-sync is not so good, but we can still back up them with Google apps: Google Photos for photos and videos, Google Drive for files and folders.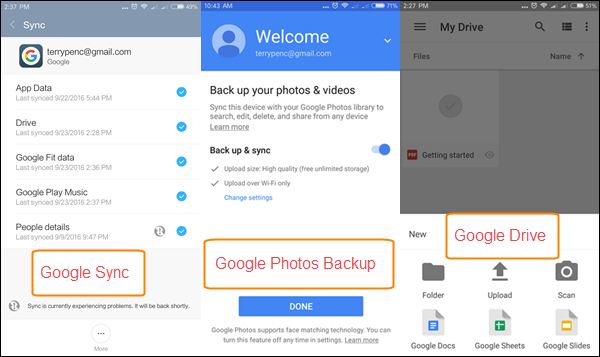 Pros:
Once set up Google account, your data will be backed up & synced automatically. Google Android backup can greatly reduce the risk of data loss due to accidental deletion.
It is really convenient to access Google Android backup data as long as with internet connection and a Google account.
Cons:
All history data will be added to one cloud account, so you cannot find an individual backup of a certain period.
It may mess up your data or even delete them for no reason. This is not rare to see over the internet.
Summary: It is really convenient to backup and restore Android data with Google. However, never make backup only to Google. Always remember to keep at least an extra backup on local storage.
Method 2. Back up and restore Android with Android Backup Service
Basically all Android devices come with stock Backup function, which can back up most of the settings and app data to local storage or cloud. Depending on different handset manufacturers, you may be able to set auto backup or even customize which items to back up. The backup and restore functions are usually in Settings, but the exact path may diverse from device to device. You'd better check the official instruction from manufacturer.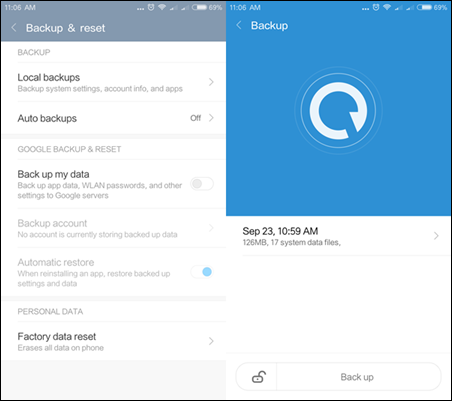 Pros:
The stock backup function can back up complete information and data on your device, including system settings and app data.
You can make many individual backups and restore them according to date as you need.
Some devices allows users to upload backups to manufacturers' cloud servers. This makes the backup available anywhere.
Cons:
This kind of backups usually take up a big part of memory. You have to delete or move the old backup in order to make a new one.
Summary: This is a good way to backup and restore Android completely. You can move backup files to computer as archives.
Method 3. Back up Android Phone to Computer
Backing up Android phone to PC can relieve you from the worry of limited memory and safety. You can move Android data to computer manually by connecting your Android device to computer and loading it as MTP device, but this is only suitable for files like photos, music, videos and documents. A better choice is to choose a good Android backup tool for PC.
Jihosoft Phone Transfer is an excellent one-click backup tool. It can back up the contacts, messages, photos, videos, music, call logs, calendars from your Android device to computer. And you can easily restore data back if you delete or lose them in the future.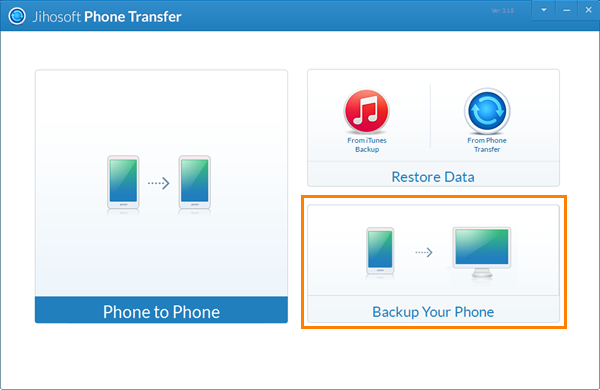 Pros:
It is super easy to use and won't take up phone memory.
You can make as many backups as you want and restore them back according to date.
This tool has many more function relating to data transfer between Android and iOS Devices.
Cons:
It has no option for cloud saving for now.
It is not free even though its functions are absolutely worth the price.
Summary: This is a good choice for Android backup and restore on computer.
Method 4. Back up Android phone after root
Rooting Android phone can unlock many advanced function, like making full backups. There are usually two options for backing up rooted Android phone. One is to use backup apps, like Titanium backup, and the other is to make Nandroid backup.
With Titanium backup, you can back up almost all system apps and third-party apps on your phone. Many Android users use it to back up data before switching to a new device or flashing a new ROM. Only the pro version allows users to upload backups to cloud, but the trial version is still very powerful. This app requires root access.
Nandroid allows you to back up your phone and restore to the exact condition at backup. It is the most perfect backup in theory, but it also involves the most complicated operations. Here we only talk about its function. It can back up the whole system as well as settings and data on it. Hence, with a Nandroid backup, you can save your device from almost all problems relating to software and system.
Related article: How to Keep Android Phone Safe after Root