Many people have ever deleted or lost contacts with Android phone or tablet. Sometimes those contacts are merely hidden for some reasons; sometimes they are really removed from device due to accidental deletion, cache wiping, formatting, etc. It is hard to discuss all possibilities within one article, but there are some common situations that many Samsung users may encounter. Here we are going to talk about Samsung contacts recovery, which should also help other Android device users.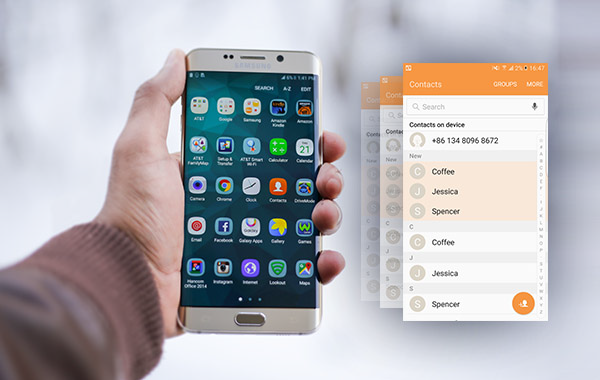 Fast and all-round Samsung contacts recovery solution
If you want to recover deleted contacts from Samsung Galaxy urgently, please try iReparo for Android. It can easily fix most contacts losing problems on Samsung with no need of backup. Actually, not only contacts, but also text messages, call logs, WhatsApp, Viber, photos and other media files.
iReparo for Android
This is a professional data recovery app for Android phone and tablet users. For Samsung devices, it is compatible with the Galaxy S/Note/A/J/C/On series, like S3/4/5/6/6 edge/7/7 edge and Note 2/3/4/5/7. It is a highly recommended tool when you have no backup for the lost contacts.
Quick instruction of iReparo for Android
Step1. Install and run it.
Step2. Click "Database" on the launch interface.
Step3. Follow the interface guide to connect your Samsung to computer.
Step4. Start scanning your device.
Step5. Preview the contacts.
Step6. Click "Recover" button.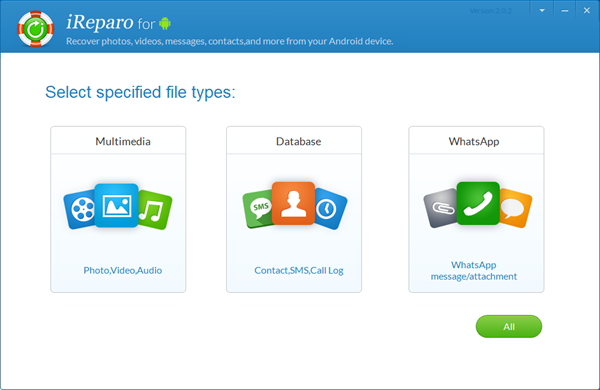 It's really just a few clicks to undelete contacts from your Samsung with iReparo for Android. Even when your contacts just disappeared due to wrong setting, contact syncing error or other problems, iReparo for Android can also find the contacts. But you can also try following solutions.
Get back hidden contacts on Samsung
Sometimes, your Samsung contacts could accidentally disappear. Actually they are just hidden due to wrong setting or system glitch. All we need to do is to display the hidden contacts.
Step1. Open the "Contacts" app on Samsung.
Step2. Press on the menu in the top-right corner (three vertical dots).
Step3. Tap "Contacts to display".
Step4. Select "All contacts" if it is not selected already.
Step5. Go back to the contacts list. The hidden contacts should be back now.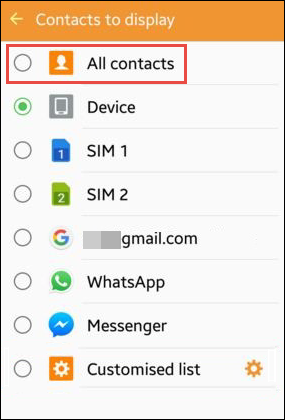 The specific operation may slightly vary from device to device. Anyway, you should try to restore your contacts by correcting display setting on Samsung.
Restore Samsung contacts randomly lost day by day
Many people have reported that their phone contacts disappeared day by day. Here are 3 suggestions worth a try.
1. Reboot your Samsung phone. Some of such problems can be fixed by rebooting device, but others reappear the next day.
2. Uninstall the newly installed app. If your Samsung phone contacts disappeared exactly after the installation of a new app, that may be the cause. Try uninstalling it and observe the result.
3. Try Contact sync fix. This is a mobile app for fixing Google contacts sync problem, like "Sync is currently experiencing problems. It will be back shortly." It should work for most Google contacts sync errors if not all. And you'll get back contacts.
Retrieve deleted or removed Google contacts
You can recover deleted contacts from Samsung if your contacts were synced to Google. Google limits the recoverable period to the last 30 days since the contacts were synced.
Step1. Log in your Gmail account on PC browser.
Step2. Click the reverted triangle next to "Gmail".
Step3. Select "Contacts" from the drop-down menu.
Step4. Click "More" on the left panel.
Step5. Choose "Restore contacts" from the list.
Step6. Select a date you want to restore your contacts to.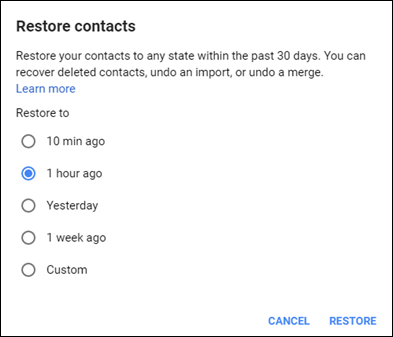 Note: Your contact will be completely restored back to the state that it was on the date you select. Please back up the new contacts which were added after that date.
Restore contacts from lost or damaged Samsung
When your Samsung phone is lost or damaged, it is basically very hard to recover the contacts or other data. But you can try these two options to restore your contacts.
1. Ask help from your provider
Your phone service provider should have your contact list. Explain your problem and ask them to retrieve your contacts.
2. Restore your contacts from Google
If your contacts have already been synced to Google, you can log in your Google account on another phone and turn on contacts syncing to restore the contacts.