As smart phone has become the most popular tool for taking photos, it is now very common that people may delete or lose their precious vacation or family pictures out of accident. Since there is no recycle bin to restore, it is quite hard to undelete photos on Android by ourselves. This article is written to show people how to get back deleted or lost photos from Android phone or tablet fast and perfectly.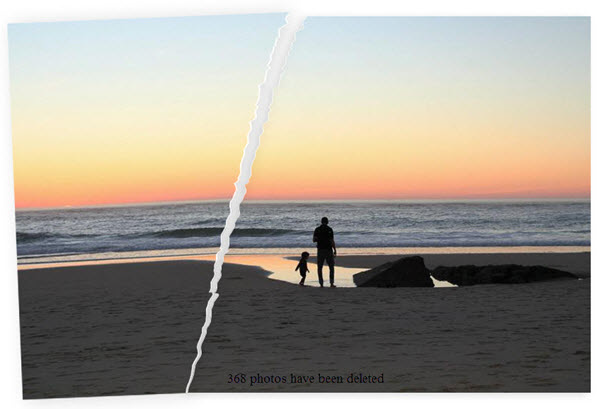 In order to retrieve Android lost photos perfectly, you should:
1. Don't panic. Blindly searching or trying is a waste of time. Taking some time to know your situation clearly will save more time.
2. Try not to use your Android device temporarily. Turn off internet connection. These will avoid new data overwriting the lost data.
How to recover photos from Android internal memory and SD card
First of all, you should check whether there is any backup for your lost photos. In many cases, people can find backups in local storage or online cloud, which are easy to restore. In case you really can't find your pictures, recovery tools can be of great use. Many recovery tools can be found on the internet, but iReparo for Android is definitely the best one.
iReparo Android Data Recovery is a professional Android data recovery tool. It can recover all the common files and data in Android phone and tablet, especially for photos, including camera photos, screenshots, app images, etc. It is super-easy to use with straight forward user interface, while you can also view iReparo for Android user guide.
Why iReparo for Android is the best Android photo recovery tool for you
1. It can recover various types of image
Normally, photos taken by phone camera are jpg/jpeg formats. screenshots are png formats. These are the most common image formats in Android device. But people nowadays also save pictures from the web or App, like dynamic gif images. iReparo for Android supports all the common image types and provides options for free selection. If you know the format of the photos you deleted, iReparo for Android will help you get them back in no time.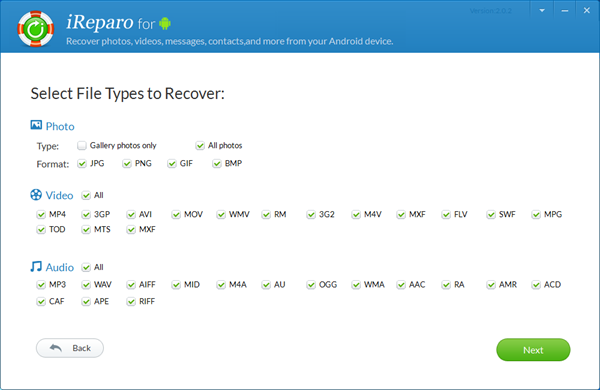 2. It can restore both Android camera photos and app pictures
Android phones usually have a stock Gallery app, in which all your photos and images are displayed. But, in fact, these pictures are not necessarily in the same folder. Camera photos and screenshots are usually in DCIM folder. Pictures you download or save from browser or App are in corresponding folders. You can install ES File Manager to your phone to check out. Some recovery software can only scan camera photos and screenshots, iReparo for Android, however, can scan and restore all the pictures in your Android device.
3. It allows free preview before recovery
All professional Android recovery tools charge their products. However, it is sometimes inevitable that some photos would be damaged due to overwriting. If we choose to pay for the service, we should make sure we will get what we want. With iReparo for Android, you can preview the recoverable photos ahead of payment and retrieve those Android pictures in good quality thereafter.
4. It provides excellent customer service
If you are totally new to Android or know little about data recovery, there will be definitely tons of questions waiting for you. A good customer service will not only inform you of the clear operation of the tool, but also tell you more details and suggestions so that you can understand the whole thing better and will know how to avoid the same problem. iReparo for Android promises users and visitors satisfying customer service and support as well as powerful recovery tool.