Nexus devices are the combination of OEMs' hardware and Google's software (original Android operating system). As Android becomes the dominant force in mobile OS market, this cooperation mode has won a great success. The latest Nexus 5X (LG) and Nexus 6P (Huawei) are among the best and most popular handsets. Besides the awesome design, excellent camera and priority of Android updates, many users also enjoy the whole Android ecosystem products on Nexus, such as Gmail, Google Drive and Google Photos. They believe that they won't worry about data syncing or losing problem with one single Google account. Actually, it is not true. You should still learn how to recover data from Nexus device.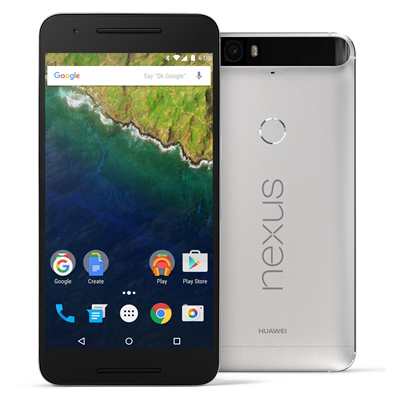 Nexus Backup and Restore
With a Google account set up on Nexus, your calendar, contacts, photos, Chrome bookmarks and other Google app data can be auto-synced to cloud.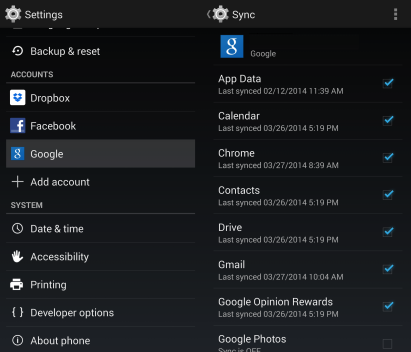 If you install Google Drive on your device, you can also back up files like photos, videos and documents with it. Furthermore, if third-party apps and games support Google account login, your data and process will also be synced. Unfortunately, Google doesn't sync your text messages, but you can use SMS Backup +, which allows users to back up text messages to Gmail/Google.
All these backups can be restored back to your Nexus phone or tablet effortlessly if your Google account works normally.
Why Do You Still Need Nexus Data Recovery Software?
1. You may remove data from all synced device and Google server mistakenly
When you back up data to your Google account, they will be saved to the cloud storage and synced to other devices with the same account. However, when you delete some synced data to release free space on your phone, these data would likely also be removed from all other synced devices as well as Google server. Though there is the way to remove the data only from device, this kind of mistakes are still very common. In this case, a Nexus recovery tool may rescue your data.
2. Google Drive/Photos/Contacts sync is sometimes troublesome
It is not rare that many Nexus users find their photos, videos or contacts disappeared from both their devices and Google server. This may be just a random glitch for Google, but once it happens on you, all your precious photos, videos and contacts will be gone all of a sudden. And you can only retrieve deleted pictures from Nexus with a recovery tool.
3. Most of the mistakenly deleted data are not backed up
Google sync needs a lot of time to back up your data. If the network connection is not good, it may take even longer time than usual. If you mistakenly delete your data during this period, they will be removed from your Nexus phone without backup.
4. Data recovery software can recover deleted data from Nexus without backup
iReparo for Android, a professional data recovery software, can restore deleted data, including contacts, SMS, call logs, photos, videos, audios, WhatsApp and Viber, from Nexus device without backup.
iReparo for Android
iReparo for Android is the best Android data recovery program. It supports all the devices running on Android 2.1 to 6.0. Nexus phones ranging from Nexus One/S (2.1 – 2.3) to Nexus 6/5X/6P (5.0 – 6.0) are all included. It can retrieve deleted data from Nexus internal memory and external SD card. If you have no backup for lost data, iReparo for Android is your best choice for Nexus data recovery.
How to use it:
Step1. Install and run iReparo for Android to your computer.
Step2. Select the file types you need to recover.
Step3. Connect your Nexus device to computer via USB line.
Step4. Follow the onscreen guide to let the program recognize your device.
Step5. Click "Start" to scan deleted data from your Nexus.
Step6. Preview the recoverable data.
Step7. Selectively recover Nexus data with one click.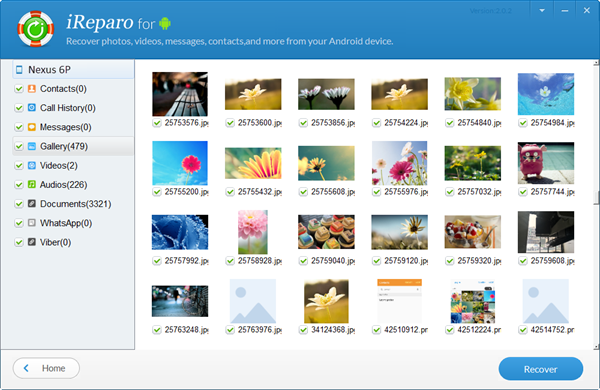 More about Nexus device
Another advantage of Google Nexus device is that it is developer-friendly. For example, fast boot mode is turned on by default on Nexus device; and the bootloader on Nexus is unlockable. These mean that you can perform advanced operations and modifications on Nexus device easily, which are usually difficult on other Android devices. Know more about Android system modes here.