LG is a South Korean company which is dedicated to electronics business. Among all the LG products, LG mobile phones become prevalent and acquired second position of Korean's smart phone manufacturer. Due to the first-class technology and superb designing, it grows with unbelievable speed. However, even if LG phone is fantastic, data loss still can not be avoid. It could cause a lot of trouble if you experience data loss, especially when you lost particular files. Luckily, there is a solution for such case. The problem solver is iReparo for Android, which is the most popular recovery app at the market.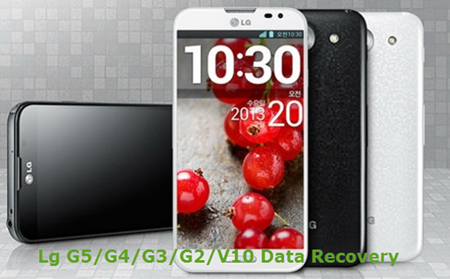 1

Main Characteristics of the Program

1. It can recover deleted or lost photos, contacts, text messages, audios, videos, WhatsApp messages/attachment from LG G5/G4/G3/G2/V10/Nexus, etc.
2. Recover files from LG that lost due to multiple reasons, such as deletion, virus attacking, factory reset, OS update failure, etc.
3. Not only support LG mobile phones recovery, but also support LG tablets retrieval.
4. The app is 100% safe. No data leakage or modification.
2

Procedures

Procedure 1: Download and launch iReparo for Android at computer. Then select file types. For instance, if you need to perform LG photo recovery, click " Multimedia". If you want to implement LG contacts/SMS recovery, tap "Database".
Procedure 2: Identify LG device by the app. Most of people may stuck at this procedure on account of different reasons. In order to proceed recovery, please pay attention to the followings. First of all, turn on USB debugging at LG phone. If the app failed to recognize LG device after that, download LG USB driver.
Procedure 3: Scan LG device. The process of scanning may take a while, please be patient.
Procedure 4: Preview scanned out files. Mark desired files and accomplish LG G2/G3/G4/G5/V10 data recovery.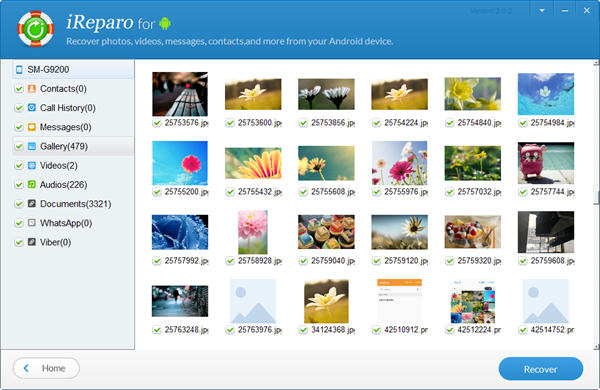 Alerts: If your LG phone experienced physical damage, which cause your phone can't be started or inoperable, the lost data may not be regained by common recovery app.
3

Tips to Prevent Data Loss from LG Phone

1. You'd better eject LG phone properly from computer every time. Do not plug out LG phone directly as it will enhance the chance of data loss.
2. Back up plays an fatal part for data recovery, thus backup files termly. You have three ways to do so.
A: Sync LG phone to Google accounts.
B: Back up software. Android Manger.
C: LG Backup (Sender). Please choose the right LG Backup version for your phone.
3. Install anti-virus software at LG phones and do not click suspicious link in case of virus attack.
4. Turn off 4G/3G/Wifi connection after data loss. Because app automatic update will lead to overwritten.