I have a Samsung s6. Is there a way to print text message conversations? I need it for court urgently. Please help.
Text messages usually record important conversations of mobile phone users. However, when people encounter the problem as above, they would find there is no option to export SMS through Message app, let alone to say print them out. Of course you can take a screenshot of the messages, and then print it out, but nobody would do that when it comes to hundreds of conversations. Actually, it is quick and convenient to print out text messages from Android phone memory and SIM card with the right tools.
Solution 1. Print out SMS from Android Phone with Text to Email App
Text to Email is a backup tool for your text messages to convert them into text/pdf/csv file and/or as email body for later usages. In this case, we can use it to print out SMS from Android phone. It provides many options to filter and order text messages before exporting.
Step 1. Install and run Text to Email on your phone.
Step 2. Filter messages by the provided options. Advanced options are hidden in the top-right menu.
Step 3. Choose the format(s) you want to export messages as. You can choose more than one type.
Step 4. Tap Export Texts button.
Step 5. Choose the method you want to send the backup files.
Step 6. Move the exported files to computer and print them out.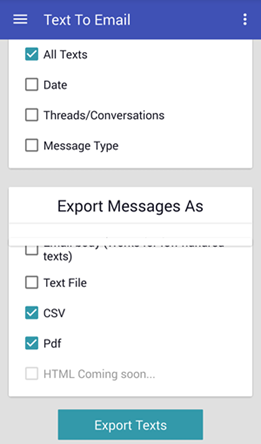 This app is very convenient to use. However, it seems that it doesn't support all languages perfectly. Some languages would be displayed as numbers on the exported file. During our test, English is fully supported.
Solution 2. Print out Text Message from Android Phone/SIM Card
If you have deleted some important text messages and now need to print them out, the best solution is to use iReparo Android Data Recovery. This program can recover deleted SMS, and print out the recovered as well as existing text messages on your phone and SIM card.
Step 1. Recover deleted text messages from Android phone with iReparo Android Recovery.
Step 2. Open the exported folder and enter SMS subfolder.
Step 3. Open the file ended with .html with your browser.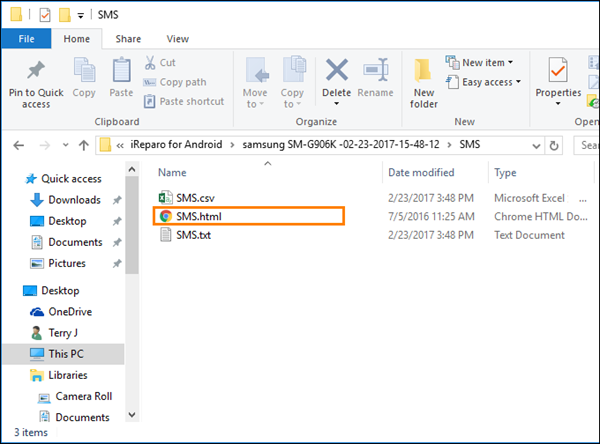 Step 4. Select the text messages you need, then click "Print".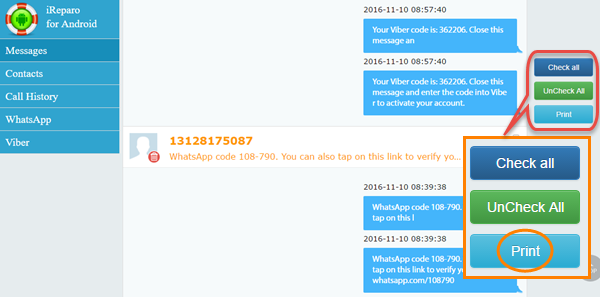 Step 5. Finish printer settings, and then print out Android phone text messages.
iReparo Android Data Recovery can also recover and print Android WhatsApp messages (with picture), contacts, call logs and Viber chat history from Samsung, HTC, Motorola, etc.