With the popularity of social networking apps and mobile games, many people have two or more accounts of the same app. Naturally, there is a need to switch two accounts of the same app on one phone. The first method people can figure out is to login and logout frequently with different accounts. Obviously, it is troublesome. Fortunately, thanks to some developers, we can now run dual-apps on Android device effortlessly.
Option1. Run Android Apps with Multiple Accounts in Parallel Space
Parallel Space is an app that allows users to sign in two accounts of the same app simultaneously on one phone. It works like another space inside the regular phone system. Users can run cloned apps in it with different accounts.
How to use Parallel Space
Step1. Install and run the app on your Android device.
Step2. It will show you the apps that can be cloned. Tap the app icon to add it to the parallel space.
Step3. In parallel space, tap the cloned app to launch and sign in with another account.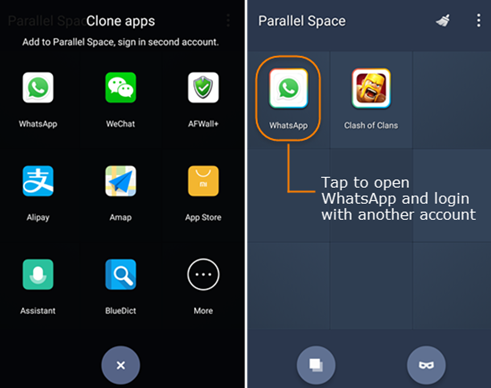 Next time when you run Parallel Space, it will directly show you the app in the space. If you want to add more apps, just tap the lower-left button and repeat Step2.
Parallel Space is fairly easy-to-use. It supports most social networking apps, games and even functional apps like camera and calendar. It is compatible with devices running on Android 4.0.3 and up, and has no more special requirements.
However, all cloned apps rely on this app, which means that once this app is killed by process tools, all running cloned apps will be closed. Furthermore, as a new third-party app, it is not always stable. But the developer team is still working on it to make it better.
Option2. Install Dual Apps on MIUI 8
MIUI, developed by Xiaomi Tech, is a stock and aftermarket firmware for smartphones and tablets based on Android operating system. Dual app is one of the greatest features on MIUI 8. Actually, another feature of MIUI, Second Space, is more like Parallel Space. But in terms of multiple accounts and cloning apps, Dual app is more convenient.
How to run Dual apps on MIUI 8
Step1. Open Settings.
Step2. Scroll down to find Dual apps under DEVICE category.
Step3. Tap Dual apps and find the apps you want to clone.
Step4. Turn on the switches behind the apps. The apps will be cloned to Home screen.
Step5. Tap the app icon that with a mark to sign in with different account.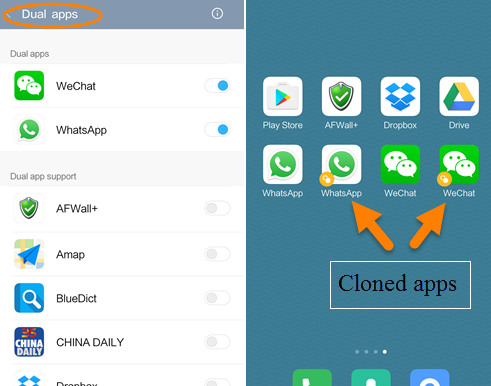 As a system function, Dual app on MIUI 8 is less likely to have problem. It also supports most apps on Android device. However, as a part of MIUI, it is not accessible for many users. Even Xiaomi devices running MIUI 8 based on Android 4.4 don't support Dual apps for now.
Both of these two options are very useful. Users can choose one according to their specific situations and enjoy dual WhatsApp, Messenger, Instagram, etc. on Android phone or tablet.